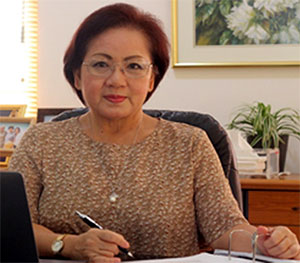 Message from Managing Director – Lily Tamin
In managing the Textile Industry for the past 40 years, I have never seen a better picture than now!

The Indonesian government regulations are showing promising signs and opportunities for our future developments in a rapid way. Therefore, the anticipation will be : Domestic economy will improve, standard of living of people will increase and the local consumption of 260 million people should also grow robustly.

International brand buyers are always keen to buy Fabrics and Garments from Indonesia but the Fabrics are not easily available. During the past few years, we have upgraded many machines and the effort of overcoming the challenging period in the past had transformed us to become far more excellent in what we are doing. We are much more competent to serve better now.

We have successfully implemented the Textile ERP system together with Integrated Machine Automation System from Germany and shall continue to upgrade our machineries, Management System and Internal Control System. Currently, we are undertaking a two-year project plan in improving our Human Resources from the mind-set to the skill set. I really appreciate the Trust and Loyalty given to me by the Shareholders, Customers, Suppliers and all the Corporate Staff members in going through the good and challenging times.

The Industrial Era has transformed the product scarcity to over-abundance of supply. With people having more choices, businesses have to be creative to remain competitive. The advancement of technology and social media has led to the emergence of creative businesses requiring small quantities and LTG with it's strong design team is well positioned to anticipate these new customers' needs.

Our future is challenging and yet interesting, let us anticipate it's forthcoming with open heart and full of optimism.