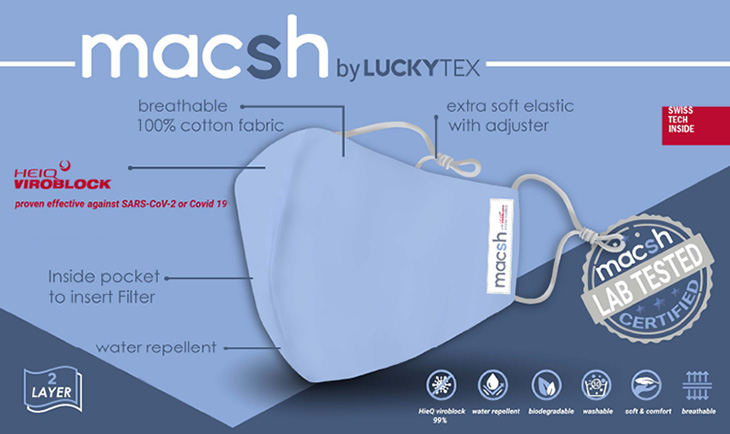 Technical Specification
Product Name
Description
Washable two-layer mask with HeiQ Viroblock® & Water Repellent Finish
Top Layer Material
100% Premium Cotton 195 threads cound fabric with HeiQ Viroblock NPJ03
Inner Layer Material
100% Premium Cotton 185 threads cound fabric with Water Repellent finish, pocket insert sewn in
Specifications
Adult all size Length 13 cm x 12 cm half width with 11 cm comfort ear loop elastic. Optional adjuster piece for ear loop, carbon Filter PM 2.5 & mask adjuster for head scarf.
Manufacturer
PT. Lucky Print Abadi Indonesia
Country of Origin
Indonesia
Care Instructions

Gentle wash at 40 C (104 F)
Washable up to 30 times
Do not bleach
Do not dry clean
Do not tumble dry
Mask size specification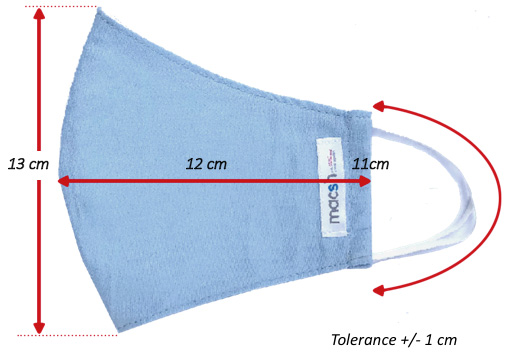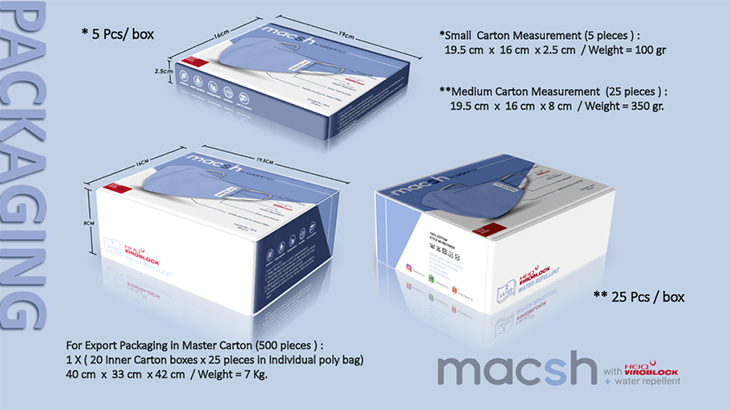 The Technology HeiQ Viroblock & Water Repellent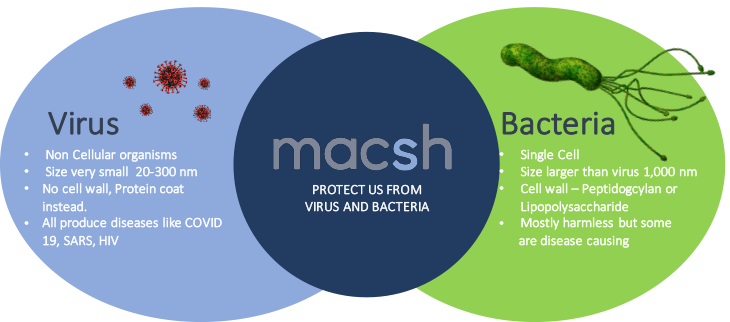 Differences Between reguler mask and macsh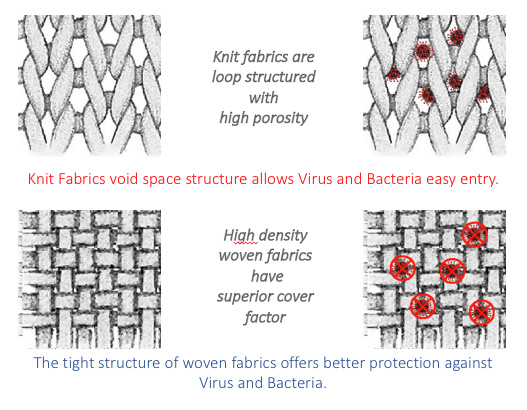 HeiQ Viroblock NPJ03 - Antiviral Textile Technology
The Technology HeiQ Viroblock NPJ03 - Effective Protection Against Coronavirus.
Breakthrough combination of two synergistic HeiQ Technologies:
A. HeiQ's patented and

registered silver technology

for antiviral and antibacterial effect
B. HeiQ's fatty

vesicle technology

as a

booster

that mechanically

destroys viruses

HeiQ Viroblock NPJ03

kills bacteria and destroys

common harmful

viruses

(such as influenza and coronavirus)

in minutes

Effective

protection againts contamination and transmission

of viruses and bacteria that use textiles as a hosting surface
HeiQ Viroblock is an innovative Swiss textile technology that is added to the fabric during the final stage of the textile manufacturing process in the cloth used to make the macsh mask.

For more details on the HeiQ viroblock technology, please visit www.heiq.com/technologies/heiq-viroblock
A potential Vector : Face Masks without Viroblock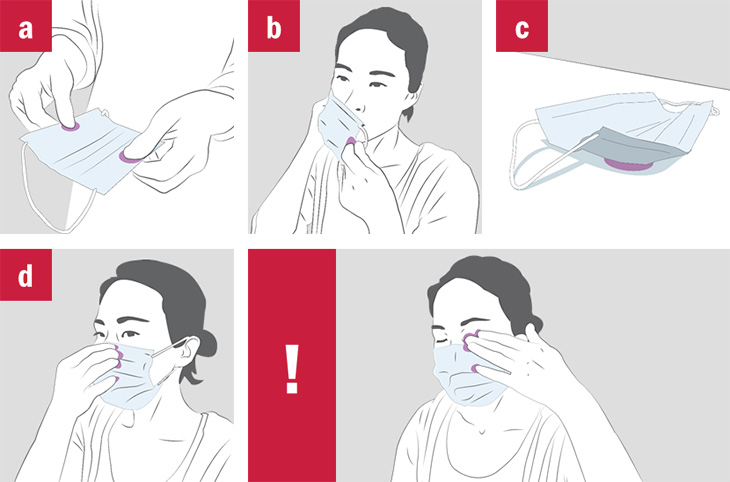 Face masks are supposed to protect the wearer and/or the others but they are also a potential vector for viruses and bacteria!

During, before and after use, there is a risk of transferring pathogen to and picking up pathogen from the surface of the face masks:
a. When picking it up
b. When putting it on or taking off
c. When disposing it unsafely/leaving it lying around
d. When touching it while wearing or for adjustment

And there is always the risk of contracting the virus through touching the face after touching the contaminated surface of the mask or other surfaces contaminated by the mask.
Superior Droplet Filtration with Water Repellent Finish

A cough can release around 100,000 droplets into the air

One Viral particle is sufficient to get a person infected!
Provides an additional layer of protection to the wearer against droplets passing through the mask. Prevents droplets from the patient's respiratory to infect the opposite person.
Macsh Performance Standards
| No | Test Item | Method | Result |
| --- | --- | --- | --- |
| 1 | Fibre Composition | ISO 1833-11 | |
| | Outer Layer | | 100 % Cotton |
| | Inner Layer | | 100 % Cotton |
| 2 | Fabric Density | ASTM D3775-17e1 | |
| | Outer Layer | | 195 Threads/Inch |
| | Inner Layer | | 185 Threads/Inch |
| 3 | Anti Virus Efficacy | ISO 18184 | High-Class 4 |
| 4 | Anti Bacteria-Percent Reduction | ISO 27043:2013 | ≤99.98% |
| 5 | Water Penetration | AATCC TM 42-2017 | ≥0.9 gm |
| 6 | Water Repellence | AATCC22-17 | SATISFACTORY 90 (ISO4) |
| 7 | Breathability-Air Permeability | ISO 9237 | |
| | Outside to Inside | | ≥ 80 mm/s |
| | Inside to Outside | | ≥ 80 mm/s |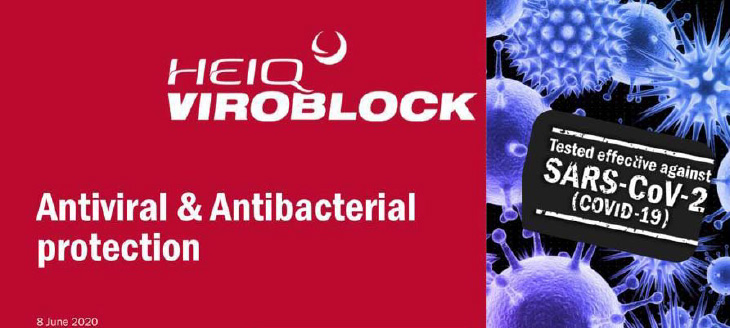 Zurich/Switzerland, June 08, 2020. HeiQ Viroblock NPJ03 is among the First textile technologies in the world to be proven effective against SARS-CoV-2 (COVID 19) in the laboratory. Tests conducted by Swiss Textile innovator HeiQ with the Peter Doherty Institute for Infection and Immunity in Melbourne, Australia (Doherty Institute) showed that treated fabric achieved 99.99% reduction of the virus.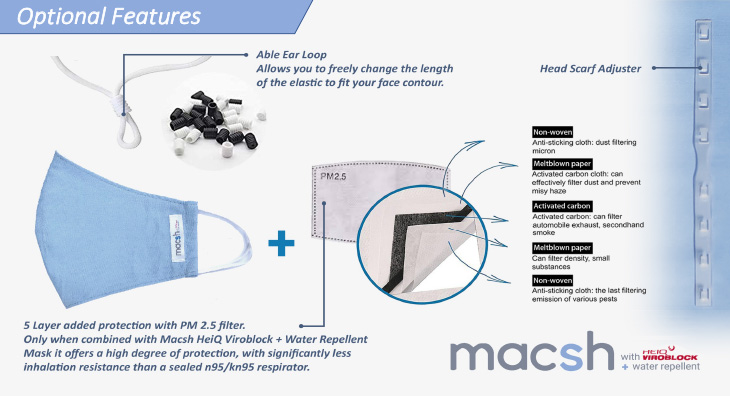 Customised Professional Masks

We can custom design to include company logos based on requirements. For special orders, masks are also available in black, navy, grey and other colour options.
Cost Effectiveness Analysis Corporate – Macsh vs Disposable Masks
Savings per Employee USD 11.83 (IDR 184,000)
Savings for 1,000 Employees USD 11,827 (IDR 184,000,000)
Measure
Particulars
Value
Reusability
Disposable Mask
Macsh Mask
1X
30X
Mask Cost
Disposable Mask
US$
IDR
0.13
2,000
Macsh Mask
US$
IDR
1.07
16,000
Cost to Company
6 Month Period ( 132 Working Days)
Disposable Mask
132 pc/Employee
US$
IDR
17.6
264,000
Macsh Mask
5 pc /Employee
US$
IDR
5.33
80,000
Cost Savings to Company @Employee
US$
IDR
12.27
184,000
Cost Savings to Company with 1000 Employee
US$
IDR
12,267
184,000,000
The Manufacturer : LUCKY TEXTILE GROUP
Lucky Textile Group is a Vertically Integrated Premium Quality Textile Producer ranging from Yarn to Finished Product.

Quality and Development
We have an accredited Lab, with a complete facilities to ensure the quality of our product.

Disclaimer
This information corresponds to the present stated of our knowledge and its intended as a general description of our products and their possible applications. Pt Lucky Print Abadi makes no warranties, express or implied, as to the information's accuracy, adequacy, sufficiency or freedom from defect and assumes no liability in connection with any use of this information. Any user of this product is responsible for determining the suitability of the product. The purchaser is responsible for complying with all the applicable government laws, regulations and standards related to labeling , distribution and sales of this product in respective country of sale.
"These products cannot be shipped or sold in the US"